---
What is a Trade mark? A trade mark is a sign used by an individual, business organisation or other legal entity, to distinguish its goods and services from those of competitors. It can be for example words, logos, design, image, phrase or a combination of these elements.
It is also important to realise that some trademarks are not registrable if they are entirely descriptive of goods or services.
Contact us to register your trademark now
---
Why register for a Trademark?
You can only properly protect your business name if you register it as a trademark, simply forming a new company will not be enough.
Trade mark registration allows you to put the © Copyright, ® Registered or ™ Trademark symbols on your logo or brand for the goods or services that it covers and stops others from using your brand identity or specific Trademarked terms or graphics. It gives you the automatic right to take legal action against anyone who uses your trademark without your permission. Some trademarks go on to be worth millions so you can sell it or franchise it as it is your property.
Leaving your trademark unregistered can mean that another business may register your company name as a trademark and therefore acquire the legal rights to use your business name.
How to register for a Trademark?
The only way to register your trade mark is to apply to The Intellectual Property Office.
When applying, it is important that you conduct a search to check no one else has registered for the same or a similar trade mark for the goods or services. Get your trade mark right and list all the goods and services as you can't amend after your application has been submitted.
A trademark is registered for ten years, after which it will need to be renewed every 10 years in order to maintain the owner rights over it.
Trademark Registration

: from

£

500

*
Trademark registration can be a complicated process and mistakes can be expensive and time-consuming.
We provide you with all help you need to professionally register your trademark.
Trademarks can be registered in one or more of up to 45 classes, we charge £100 for each additional class required for registration.
---
How long does the registration take?
Registration usually takes round 4-6 months if the examiner doesn't raise objections and it isn't opposed. However, it can take longer if any objections are raised by owners of similar registered trademarks or by The Intellectual Property Office.
Trademark Classes:
Trademarks are registered in one or more of 45 classes, with goods in Classes 1 to 34 and services in Classes 35 to 45.
If you're interested in ™ Trademark registration and would like to discuss how we may be able to assist you please contact us or email mail@cgincorporations.com.
Contact us now for Trademark Registration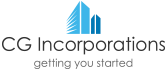 CG Incorporations Limited
5
Exceptional service, attention to detail, ability to understand and protect the interests of the client - works great with us! :) CG Incorporations, thank you for your efforts!
Petr Shexov